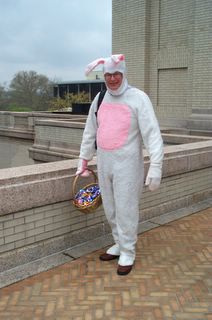 Looking for something fun to serve alongside your ham on Sunday? Try this carrot mold and thank me later! Bob and Ginnie Newhart whipped this up for a hot tub party at Elliott Gould's place a few years back, and it's been a staple at CTK shindigs ever since.
1 1/2 cups carrots, grated or finely chopped
1 cup brown sugar
1/2 cup margarine, softened
1/2 teaspoon baking powder
1/2 teaspoon salt
1 egg, beaten
1 cup all-purpose flour
Combine all ingredients; mix well. Place in greased 6-cup ring mold. Bake in preheated 350 degree oven about 45 minutes; unmold. Serve on platter with cooked green peas in center. Serves 6.
A little 411 from Ginnie -- "I usually make 3 or 4 of these, one to use and others to freeze; my family loves it. The ring looks pretty with a green vegetable; great with poultry, beef or fish."
Save room for
peeps
!